Charlie: ZBird! I have been working on this plan for days!  I have finally figured out how we can see inside the toilet.  This way we can see if there really is a treasure!  I am so excited!  I have a list of supplies and have written the plan out!  Now you review what I have and if you have any questions just ask!
ZBird: Great job Charlie!  What do you need!
ZBird: Charlie, I don't understand that stack of coins is as tall as your head?  How will this help us get in the toilet?  Are you thinking if we had a head full instead of a hand full of coins (Birds don't have hands) the humans will let us put them inside with theirs?  And who are you calling fat?
Charlie: No Bird Brain!  Look at the Plan…It was just a joke you just need to eat a whole bunch so you are heavy!
Charlie:  See Zbird it is called leverage.  All we got to do is take the No. 2 pencil and wedge it under the lid!  You get to eat a whole bunch and walk out to the end.  As you walk out to the end of the pencil… the lid will lift and I will slide the coins under the lid propping it up.  Then I can look inside and see what the humans have hid in the toilet!  Got it?
Zbird:  This is a great idea Charlie!  It will be like we are real pirates trying to get a treasure.  You can be the mean pirate!  We can pretend you are nice enough to let me eat my last meal and then make me walk the plank!
Hey, Will you wear a patch and put a little human on your shoulder for fun? You could even get a peg leg!  Huh Huh?
Charlie: Zbird would you concentrate on the task at hand?  We have a lot of work to do!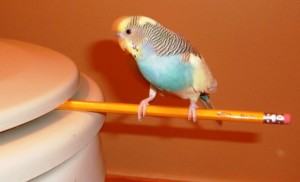 Charlie: Got the pencil in place and look… I am just not heavy enough!  Zbird come here!  Get up here on the pencil!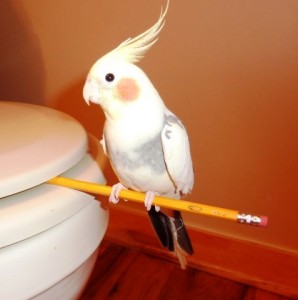 ZBird:  Like this Charlie?  Am I walking the plank good Mr. Bad Pirate?
Charlie: Aye go out t' t' end o' t' plank mate we need more weight!
Zbird: I be afraid t' fall.  Let me tilt me skull and see it that will help.  Arrr!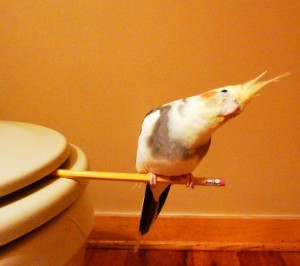 Charlie: What are you a chicken man?  Get out there.
Zbird: Blimey! Mate she be startin' t' move!
Charlie:  Great job!  I am going to start putting the coins in.  Did you eat a bunch like I told you?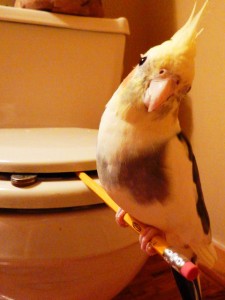 ZBird:  All this work Charlie has left me a little bit hungry!  You think I can take a break and get me a little snack?  It could only help and I need to stretch me wings.
Charlie:  Go ahead ZBird!  I am going to check my figures anyway!  Looks like we are right on track!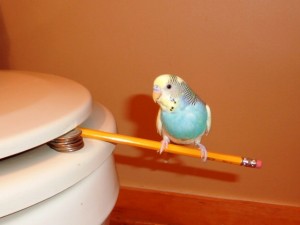 Charlie: I can't believe it my plan is working!  It will not be long now and we will truly know if there is actually treasures in the toilet!
Zbird:  Hey Charlie; What is this stuff with the coins all wadded up?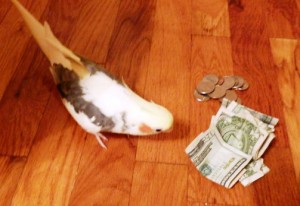 Charlie:  It is dollars man!  Humans use them to buy things!  You know like food and toys!  Now stop bugging me I am reviewing our plan!
Zbird:  Ok I will read the paper while on my break!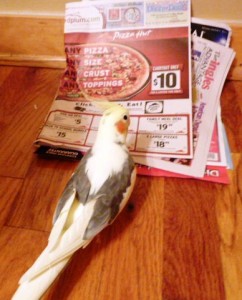 Zbird:  Oh man!  Here I am on my break and I have found a wonderful deal!  Charlie needs me to be real heavy so we can use the leverage to lift the lid on the toilet!  Here is a back to school coupon for a pizza and they actually deliver!  I bet if I ate a large pizza I would be sooooo heavy and Charlie will be so proud!  He has worked so hard on his plan it is the least I can do.  Check out my video below as I clip out the coupon while waiting for my pizza to arrive.

Ding Dong!
Pizza Guy:  Here you go!  One large pizza all the way, extra cheese and no anchovies!  That will be $21.72!
ZBird: Oh!  Shoot I just have these dollars.  Let me go get some change!
Pizza Guy:  Hey man thanks for the great tip also!
ZBird: No problem!  Me and my buddy are working on a big project and when we get done we are going to be RICH!
Charlie:  Hey where did all the coins go?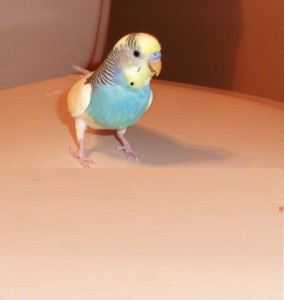 Zbird: Hey Charlie take a break and get down here and get you some pizza!
Charlie:  Zbird where did you get the money for a pizza?
Zbird:  Don't worry it is my treat!  I used all that was there and I was even nice enough to give the guy a good tip!  Can you believe I had just enough?
Charlie:  YOU BIRD BRAIN!  You used up all the coins!