ZBird sits puzzled and Charlie checks in!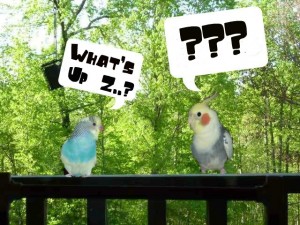 Charlie:  What are you thinking about so hard Zbird?
Zbird:  I was thinking about something I have noticed going on in the rain room!  You ever noticed that when humans take us in there they always close the lid on seat thing?
Charlie:  Are you talking about the toilet?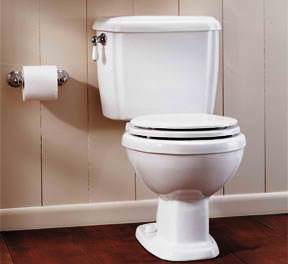 Zbird:  Yeah!  Well what do you think they are hiding in there they don't want us to see?
Charlie:  Hey!  That is a good question Zbird.  You are right!  Every time I go in the rain room for my shower they do the same thing.  I do wonder what is inside?
Zbird:  Charlie I think we should put our heads together and figure it out!
Charlie:  Hummmmm!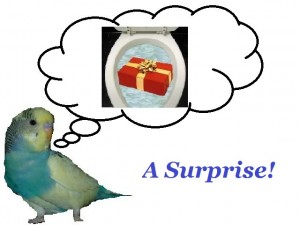 Charlie:  Maybe it is where they keep all the goodies and surprises.  Maybe they don't want us to see them before the big party!
Zbird:  No Charlie they would never think about something like that;  it would have to be a true secret!  Like something they wouldn't want us to eat!  I bet they hide wonderful goodies there.  I bet they go in there and eat all night while we are asleep!  I think I know what is in there…!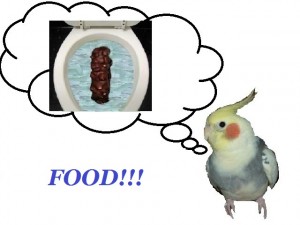 Charlie: Good point Charlie!  There is all kinds of foods we can't have and maybe they do store food in there.  What kind do you think Z?
Zbird: Baby Ruth bars!  I believe chocolate is bad for dogs and some are allergic to peanuts!  I bet they have Baby Ruth bars in there and they eat them right out of the toilet!  I bet they gorge themselves and eat them without their fingers.  I think I once saw a human with their head all the way in there.
Charlie:  That is insane Z.  Hey, think of it this way.   Maybe they were smelling something!   I think it is something beautiful and smells wonderful!  If they had their head in there I bet it has to be great!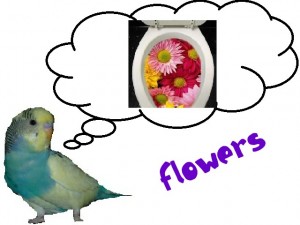 Zbird:  Maybe it is great!  Charlie maybe it is bright and shiny and would hurt our eyes?  Maybe it is something so cool they think we might steal it.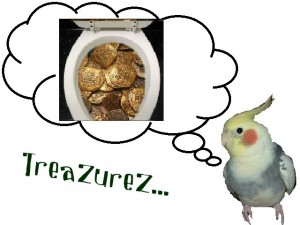 Charlie:  Oh cool!  Like a treasure Zbird?
Zbird:  Yes Charlie!  Like a treasure!  I bet there are Treasurezzz in the toilet!  We must figure out a way to get inside.
Charlie:  Great idea Zbird!  How you going to get inside is the question?  We are just birds and we have no arms.  We have to get a plan together.
Zbird:  That's right Charlie.  We must work on a plan………
Stay tuned for (Episode 2) here at Cockatiel Confessions…..