How to Eat Your Pets and Not Go To Jail!
That's right have you ever said "That's so cute I could just eat um up?"  Well at Cockatiel Confession we have found a place you can do just that.  I have included detailed instructions on how this should be done.
It's as Easy as 1, 2, 3, 4…….
1.Decide which pet or if all of your pets would be delicious enough to eat. (Here at the farm I think Hello would pick most of us but not so much RD because he likes to roll in deer dung and that wouldn't make him so munchy).
2. You would then go to the site www.rollingpinproductions.com and decide on size, if you want flavored icing, ribbons or gift wrapping. (I think the icing might make me look fat but it will surly make Hello fat if she ate me everyday)
3. Make order and send money!  (This lady is talented and needs to be paid for it.)   Susanna Caliendo not only produces cookies for celebrities and corporations, she has appeared on several shows spotlighting her work. (Only the best for the Z)
4. Now wait! …………. While you are waiting let's celebrate and congratulate this weeks winner of the "What in Z World" Contest.  The picture is a close up of  Hello's Grandmother's rolling pin.  Hello says she made the best chickin n dumplin's (Chicken pastery for you guys in CA)  She also made cookies!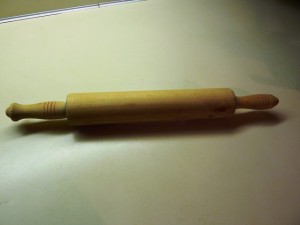 I have to admit you guys are getting good.  Suzi put the answer up almost as soon as it hit the net.  I am really going to have to get tricky and pull out my harder stuff.  Kierstin Contompasis – (this girl rocks) she guessed something I was going to use in another week or so.  (Forget it too easy)  Carys Jones yes you did get it correct but Suzi beat you to the punch.  Then to my surprise Kathy from the Junk Drawer started playing and I knew I was doomed.  She claims she is not good at this and threw up a wrong answer but don't let her fool you she invented the game.  I'll stump you for sure…………….Are your cookies here yet?……………….Thank you everyone for playing.  I love posting when I feel like I have an audience.  Birds like an audiences as you know!  We like Cookies too.  When you get yours eat the feet first so they don't get away.
Winners Report Here
This concludes week 4's "What in Z World" contest.  Susi be sure to go to my Contact Us page and send me an address to send you a prize for winning.  To go to week 5's "What in Z World" contest press here —–> Take me there!