You Gotta Z This! (Another Dancing Bird)
Posted by ZBird
May 14
This is a combo post! Not only are you getting to see another one of these great dancing bird video we are going to close out Week 9 of the What in Z World contest! This one was a real challenge as I ended up having to add an additional picture to get things moving.
Part 1
I guess this one could have been a little unfair as this is a real old- time item. Hello just corrected me in saying "It was not that long ago".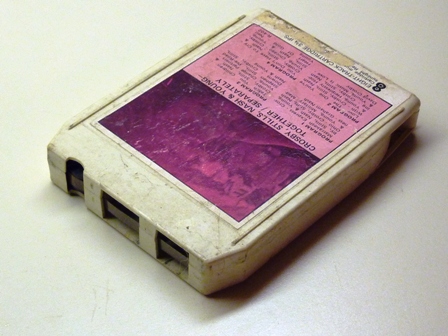 What we have here is an 8-Track! That is right! Music! How I understand it you would load this in the player and get a whole eight hits broken up into four sections.  These were the rave back in the 60′s and to have one made you cool. This one is a little beat up but if we had a player it might still play.  Can you imagine just 8 songs on this bulky thing when now we can have a GazzzzZillion on something as small as an Ipod?  I made that GazzzzZillion up because I like the Z's in it.
This 8 Track features the group; Crosby, Stills, Nash & Young.  It features several songs where they are together and some separately.  The songs are broken up in four groups.  The problem with these things were if you liked the last song in that group you had to listen to all the ones ahead of it.
Steve congrats on knowing the answer to Week 9 What in Z World Contest.  I will be getting up with you soon to get you your prize.   I will be posting week 10 soon so be sure to check back and see What in Z Word.
Part 2
We have seen Snowball shake his tail feathers in the past and I thought maybe another bird dancing might be just to much.  Then I just could not resist the antics of Frostie!  I felt guilty not sharing this great find.  This bird can rock and may be just about as crazy.  You know what would be cool is to see a dance off between Snowball and Frostie.  Get it cool + cold names!  Ha Ha  Be sure to watch the whole thing cause Frostie's got moves! Enjoy.
That's a wrap! Thanks Frostie great moves!