Can Someone Pass Me the Soap?
Posted by ZBird
Apr 13
I'm not sure what the code is for cats and why they just hate getting wet.  I think they have been told if they get wet they will melt.  With even a drop it seems they grow extra legs and claws and run like the wind.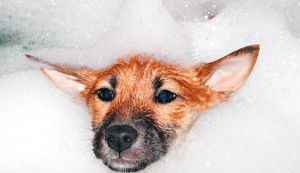 With dogs the whole bath thing can go either way.  Some do, some don't!   Rd likes baths because he is always looking for some deer dung to roll in so Hello will have to wash him again.
Fish love to take baths!  I know this because I have yet to see one not in the process of bathing.  Those Fish guys like it so much; Hello has to drop food in while they hang out underwater.  They stay underwater forever and I never see them sleep.  The thing I don't understand is with all that bathing why do humans say fish smell bad?
I have several interest so I don't have as much time as Fish to bathe, But, I love getting wet!  Anytime I hear the water turn on I get so excited that it might be my turn to shower.   This week I collected a few pictures of some of my Facebook friends enjoying their shower.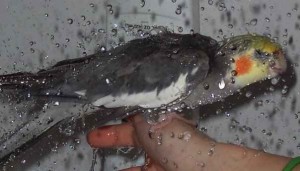 This first photo is of Chiquito and her human Liz Visser's arm.  I love how Chiquito is just hunkered down taking it in.  I think he is trying to be a fish. Through all those drops of water I believe that I can see a smile coming through. You dirty devil your getting clean!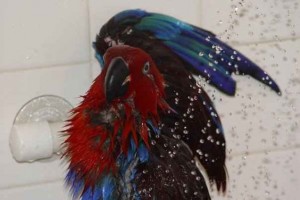 Pally Williams took this great photo of Bella taking her bath!  I bet if we were there in the bathroom she would be singing to us.  Look at how she lifts her wings to be sure to get all the feathers.  I do the same thing when I am in the shower but I like to hide my head under my wings. It is kind of a trick I play. I want Hello to think my head went down the drain. Hee Hee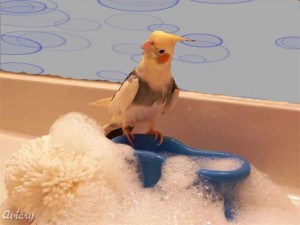 Last of all it is me and my little bathtub!  This bathtub is way to small for me but I like play on it after I take my showers.   I am not to sure about these bubbles floating around in my drinking water but check out this cool bath sponge Hello got.  It fooled all of you on this weeks "What in Z World".  I loved all of your guesses this week and it could have been all those things but it was just my little sponge buddy I named "Scrub"  I win this week!  Gotcha!
If you are ready to play this weeks "What in Z World" press here —-> Ready!