The Latest Peacock Tale at Cockatiel Confessions!
Posted by ZBird
Mar 21
Yes it has happened!  We knew that it would!  It was a matter of time.  Echo has now started to dance.  As many of you know Echo ( the Peacock) is our latest addition to the farm.  He is less than one year old and being that it takes about two years for a Peacock to reach full maturity we were not sure if we would see the dance or not.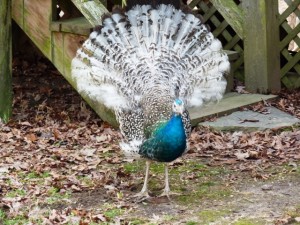 His tail is short and he looks like a fancy Turkey.  He struts around looking all handsome and stoic.  Echo truly gets into it.  He is so funny how he will fixate his eyes on something like the cat (Smokey) and puff out.  Smoky is not the least bit interested in Echo's efforts to look huge and will often look off to the side.  Echo begins his approach by vibrating his tail, arching his neck and not taking the smallest blink of the eye.  Smokey lays down on the ground as if to say "Wake me up when this is over tuff guy".
The whole thing always blows over as Yoda (Peahen) walks right in front of Echo chasing a bug or some other item that catches her eye.  Notice that no one really cares about Echo's dance but Echo.  Poor guy.
Peacocks are not the only type of bird that uses its feathers to get attention.  I have found some of my Facebook friends that like to strut their stuff.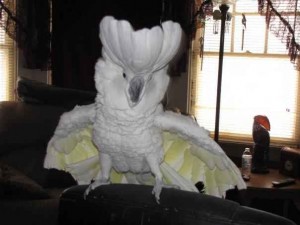 There is not a shortage of Cockatoos on the net spreading their feathers in play and showing how big and wild they can be. Here we have Milton spreading not only his wings but his crown. I'm just a cockatiel and would flip right out if I saw this guy in a dark alley. Milton's human helper is Barb Vagg and says that Milton is always hamming it up. Thanks for the cool picture Milton.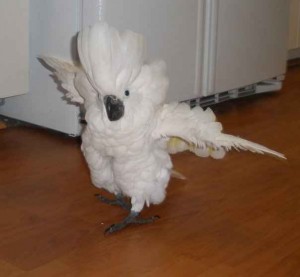 I am not sure if Cockatoos can cook but it looks like Keiker is chasing someone out of the kitchen. Maybe his favorite show on animal planet just came on and he is rushing to the big box.  Hello says he looks like a little white teddy bear and she wants to just swoop him up. This makes me mad because I already have to split my time with Charlie. Keiker don't you come running round stealing my human.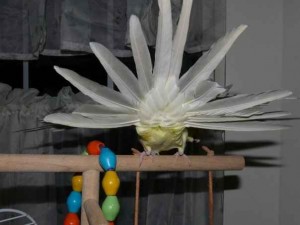 This is not the back end of a little peacock. This is the tail spread of a cockatiel like me. My friend's Freddie and Sarah shared this picture of Bella and what a show. I have been spending most of my time lately getting my tail feathers ready. I had no idea that I could do this. I do wonder if Bella is taking one of those boga (bird yoga) classes?
As you can see you don't have to have a peacock around the house to have a great show. Birds love to have fun and showing off for our humans are one of the best times we have. So if you see us doing our dance you better watch or I'll send my buddy Milton over to wake you up! Raaaahhhhhhhhaaaaaa!
If you enjoyed reading about me and my friends be sure to subscribe to my blog so that you can get all of my confessions. It's gonna be fun! Z Bird