What do Cockatoos, Cockatiels and African Greys have in common?
Posted by ZBird
Mar 10
If you guessed that they are extremely dusty you are right!  The Cockatoos, Cockatiels and African Grey's have a special and additional feather dander called powder.  This gives them the nick name as Powder down Birds.
The most shocking thing that Hello had to get use to when I first came to the farm was the huge cloud of dust that flies everywhere when I shake off.  She has had several other types of birds but never a Powder down Bird like me.
If you plan on getting a bird be sure to grab a feather duster.  You will need it as we love to spread the love all around.  Just remember the reason we work so hard at being beautiful is because we do it for you.  We want to be the best looking bird on the block.
There are several things that can be done to knock a portion of the dust down.  One is frequent cleaning around the cage. Don't have carpet in the room that the cages are in.  Hardwood and tile floors are more common in bird areas.  Consider an air purifier and be sure to change the filter in the HVAC unit often.  No really often!
The easy thing to do and most bird's love it is Bath Time!  Hello lets me take a bath about every other day.  I love to hide my head under my wings as the water falls on my back.  I look like the headless cockatiel!  Rahhhhhhh!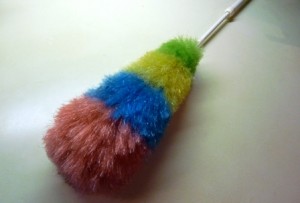 This brings me to this past weeks contest winner at "What in Z World".  Sherry Simpson you were correct with it being a feather duster with no feathers.  Be sure to go to our contact page and submit your address to me so I can send you a prize.
Thanks for all that played this week's "What in Z World"!  Be sure to subscribe so that you can stay up on what is going on here at the farm and all my fun antics.  Click here for the next "What in Z World" and Good Luck!