We Got These Peacocks!
Posted by ZBird
Mar 6
Hello always dreamed of pulling up in the driveway and being greeted by all types of animals.  Currently when she takes a walk around the farm she has two dogs, a cat and guinea fowl to accompany her.  It seems only natural being the pet lover that she is that she would have hopes of adding a peacock to the bunch.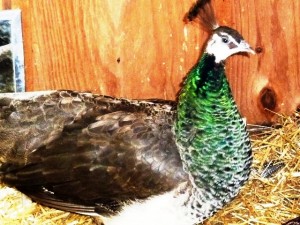 Enter Princess Yoda!  The peahen came first to the farm. Her age is unknown but she has a green neck and seems afraid.  She got her name simply from her first day at the farm.  She spent the morning making a honking sound.  The sound reminded Hello of a small truck coming down the road and honking the horn.  She decided that it sounded like a Toyota and however from that we ended up with the name.
Hello knew the male would be here soon as she was waiting for him to get old enough to leave his mother.  Hello had been to another farm where she seen a couple of peafowl.  The owners were kind enough to offer their male peacock to come live on our farm as two adult males would fight.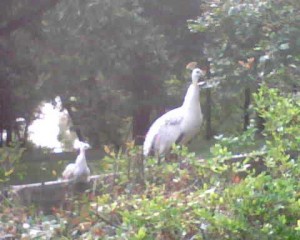 His name is Echo as he has the same honk as Yoda but with a little bit more.  Echo was born white just like his Mother.  As he gets older he will change colors and be grand like his Father.  His tale is not so long now but when it is full grown he will be about 6 foot long from head to the tips of his tail.
Hello wanted the peafowl to free range on the farm.  This will allow them to roam around the farm without being confined to a pen.  She started by keeping them in a pen for about 2 months and feeding them treats.  One day she allowed them out of the pen and they walked around just a bit and returned.  The next day they flew off and up high in a large tree.  The next morning they were gone.  Hello was sad as she walked out to the barn for one last look.
When returning to the house something caught her eye.  It was Echo looking down at her from the top of the garage.  He was so glad to see her that he jumped down and ran to the barn to see if she had left a treat behind.  She promptly locked him in.  That evening he honked for Yoda.  You could hear her honk back from very far away.  It took her two days to make it back home.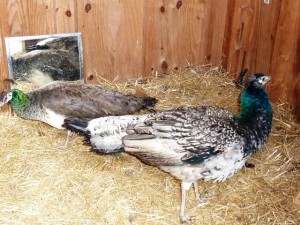 Yoda and Echo have now reunited and are living in the barn.  The door stays open but the peafowl have made it the safe haven and don't come out very often.  Echo got caught outside the barn one night when a large snow storm came up.  There wasn't anything that Hello could do because he perched way up high in a tree.  She worried all night but sure enough the next morning you found Echo safe in the barn.
Hello put a mirror on the floor because most birds love to look and will not stray far from their mirror image. It works well as they tend to stay there much of the day. Echo is slowly changing color and you can see he has a short tail now. It will take about two years for Echo to look as wonderful as his Father.
Welcome to the farm Princess Yoda and Echo I am sure we are going to hear a lot about you guys.
Be sure to subscribe to our email updates as we discover the wild world of peafowl ownership. Will Echo dance in the spring? Will Yoda run away again looking for love? Stay tuned to get these answers.
[ad#Banner Image only]