Do Dogs and Cats Eat Sushi?
Posted by ZBird
Mar 4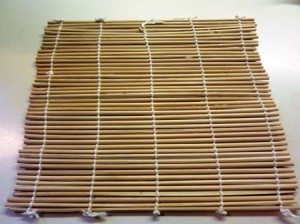 Congratulations David!  You were the winner of our "What in Z world contest".  Your guess was the tool for making sushi rolls.  Be sure to go to my Contact Us tab and send me your address so I can send you a prize.
Speaking of sushi rolls check this out!
Pussy & Pooch is an innovative and unique pet boutique that is located in downtown Los Angeles. They cater to the urban lifestyle of modern pets and their owners.
This boutique includes a great place for you to shop for clothes, accessories and includes a Pawbar. Yes, a place for your pets to pick up their own sushi rolls. Dozens of dogs stop by there daily to enjoy raw treats, sushi rolls and dog beer. Dog beer is malted chicken or beef flavored vitamin water.
The owners believe that pets should eat as nature intended them. Each meal includes animal protein with a small amount of plant products. The plants simulate what a carnivore would find in its prey's stomach. You will not find grain and filler foods in this place. The boutique has had so much success that they now have opened another store in the Belmont Shore area of Long Beach.
S.A.D. (Species Appropriate Diet) Dog Sushi LLC is located in the Austin TX area. They also include the raw meat alternative to feeding your carnivorous pet. They have a huge assortment of rolls that are fresh, whole and made with 100% natural ingredients. So fresh that it is suitable for human consumption.
You can spend quite a bit of time looking through all the names for the sushi rolls they offer. Some of the names that stuck out for me were the "no begging beef roll" and the "dances with buffalo roll". Their signature rolls, nigiri and sashimi offer more choices than the local supermarket. These include things like green tripe, beef sweetbreads and beef recreational bones.
Both sites claim that the benefits of feeding in the raw include better digestion, fresher breath, cleaner teeth and healthier coats. Going raw will also help pets that have food allergies and even controlling seizures. Check out these two sites and consider the raw advantages for your pets.
Be sure to play this week's "What in Z world contest" and see if you can be the first to answer what it is.
Click here to go to the next contest ———> Fly me there!
[ad#Banner Image only]