Humans, Dogs and Boxes?
Posted by ZBird
Feb 10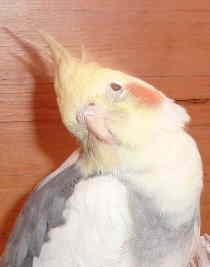 I want to squawk about something!  These humans are crazy!  They love boxes!  They look at big boxes and talk to little boxes.  My human (The one I hired to clean my cage and feed me) talks to a little box all the time.  It even calls out to her.  She will come running around the corner grabs it and says "Hello".   It stops yelling out when she does this.  Sometimes it will call her and I think she is mad at it because she will pick it up and say…."I don't think so".
The crazy thing is the humans don't talk to the big box.  The big box just talks to the humans and they sit there for hours just looking at it and listening.  Sometimes they watch the big box talk on the little box about what the big box is saying.  The other day all of the sudden they started yelling at the big box and that puzzled me.  They yelled "go, go, go".  I found it very exciting but the box never moved!  The humans jumped up and down.  Some got mad and others laughed at the mad ones.  The box was never afraid it just sat there and talked and flashed its colors.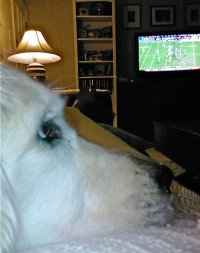 Gracie watching the Big Box!
I have a new problem now. I think the dogs are teaming up with the humans.  I have yet to see a dog talk to a little box but i have evidence that the dogs are now teaming up with the humans.  A reader shared this photo of Gracie watching and listening to a big box. Then the craziest thing happened … I started getting pictures where the dogs were dressing up like humans.
Here are two pictures from readers that have their team shirts on!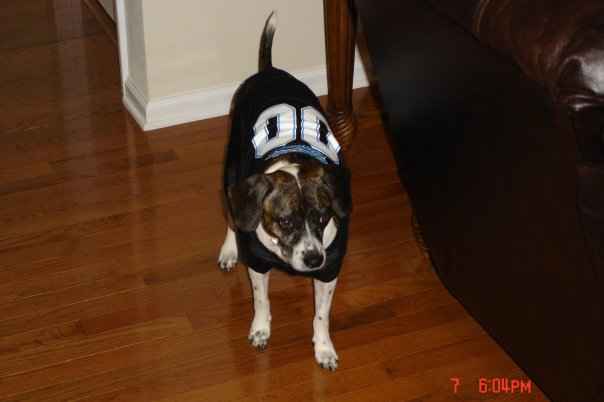 Here is Haley in her favorite team shirt!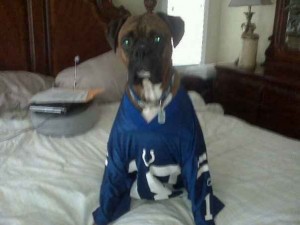 Then you have Zeus…….aka Sir FURcrest!  Sorry Zeus your team lost but you still look great in that shirt.
I believe that we should do our best to watch out for the boxes in our lives.  Maybe humans should consider turning off the big box, putting down the little box, stop typing on the medium box.  Get your dog out of the closet and the two of you go for a walk…..Z Bird.